wnyc.org: "Singer-pianist Diamanda Galás talks about two upcoming programs of songs at the Highline Ballroom: "Imitation of Life" (on August 12) and "Chansons Malheureuses and Amanedhes" (on August 19)." Listen here
"Diamanda Galas ignores the traditional ways in which women are expected to sing and instead offers a cross between Dracula and Goth-rock as she takes on subjects including power, abandonment, grief and the AIDS epidemic. She returns to New York for two performances of "Defixiones, Orders from the Dead" an operatic mass which speaks of the Armenian, Assyrian, Anatolian and Pontic Greek genocides. She joins us to talk about the New York premiere. Also on the show: Rivers and Tides director Thomas Riedelsheimer drops by to discuss his new documentary on Grammy award-winning, deaf percussionist Evelyn Glennie entitled Touch the Sound." Listen/Download here
somewhere.org: "Schrei 27 (1994) Consists of several short performances over the space of twenty-seven minutes alternating extreme high-energy vocal work with absolute silence. The performances are chapters of a confession which might have been induced through a chemical or mechanical manipulation of the brain. There is a high density of speech-sound over time which is often machine-like in its velocity. The work employs the atypical speech and vocal signal processing that Galas has been researching since 1979. A co commission of the Walker Art Center (Minneapolis) and NEW AMERICAN RADIO."

- Listen to SChrei 27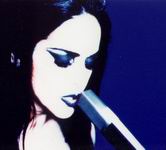 A fiercely confrontational avant-garde performer noted for her wailing, four-octave vocal range, Diamanda Galas was born and raised in San Diego, California. The daughter of Greek Orthodox parents, her singing was roundly discouraged, although her prowess as a classical pianist was nurtured; ultimately, her strict upbringing resulted in a reckless, drug-fueled youth prior to her entrance into the University of California's music and visual arts program.

More info:
"James "Twig" Harper and Carly Ptak are Nautical Almanac, a Baltimore group that was, once upon a time in Michigan, Twig, Nate Young of Wolf Eyes, and percussionist Sol Meltzer. Nautical's sound is somewhere between analog improv and improv comedy (if improv comedy made a sound [besides audience members yelling "Tomato!" "George Washington!" "Hepatitis Spelling Bee!"])—some sputtering beats under jerry-built noise that breaks before your eyes and ears, the sound, sight, and smell of wired garbage played by giant rats. " Read more

Download MP3: Nautical Almanac - Widdeling the Reflex Fiddle from www.loadrecords.com

A four part radio series based on the State of Song article that appeared in The Wire issue #243 May 2004. The article surveyed a wide range of alternative, underground and outsider music to uncover 60 idiosyncratic takes on the songwriting tradition, and the radio shows playlisted songs discussed in the article, including music by This Heat, Pandit Pran Nath, The Stooges, King Tubby, Skip Spence, Terry Riley, Incredible String Band, Super_Collider, Devandra Banhart, Alice Coltrane and more.
The shows were commissioned by Radio Scorpio, an independent station based in Leuven, Belgium, and were originally broadcast in May 2004 in the station's Question Mark slot.


Review of the newest CD by Skalpel in the WIRE #243: This release deserves to see them revered far beyond Poland..

"It's a mixture of breaks and ambient sounds, and a hip-hop way of producing it," says Marcin, simply summing up their sound. "Yes. I am agreeing. Perfect," nods Igor. "We were thinking about doing something original and we decided that the Polish jazz is something we could give to the rest of the world."

Buck 65, real name Richard Tefry, was born and raised in a small town in Nova Scotia. Although he had dreams of becoming a baseball player and was even scouted by the New York Yankees, he turned his attention to music and is now adding a new and funky take to the hip-hop sound. Influenced mainly by his hometown surroundings, Buck 65 is moving music to a another level and creating much, much more than your average radio-friendly tune.More at allmusic.com
Links:
KK Null is widely and correctly lauded as one of the fathers of Japanese noise guitar... [THE WIRE Issue 243, May 2004 page 68]
K.K. Null has always lived outside the boundaries of the ordinary and mundane. As a member of the heavy rock trio Zeni Geva he's built a reputation as an artist to be reckoned with, but it's his solo work that has earned him a devout following in avant-noise circles. Null has released records on labels like Charnel Music, NUX Organisation, Manifold, and Fourth Dimension and has played with Jim O'Rourke, Merzbow, John Zorn, Fred Frith and many more. He was also a member of the Sensurround Orchestra. GeV, Null's first release for Staalplaat, shows Null taking sampling to the extreme, either chopping up sounds beyond belief or looping them into a roller-coaster ride of noise and feedback. Like a roller-coaster, these songs are both fun and scary -- upon first listen the music seems harsh and overbearing, but the variety and range of sounds quickly becomes mesmerizing and entertaining.
Links:
Downloads:
- MP3: KK Null - 2:10
Real Audio Downloads:
---
Search
---
Latest postings:
---
My second Blog:
---
Deutschsprachige
Science Fiction

My pictures at flickr.com:

---
---


Online since 6172 days

- made with antville
- powered by helma
- Use Firefox