wfmu.org: "Hailing from Norway, Noxagt is a three-piece bass/drum/viola wrecking unit. Their new power-trio format comes after a series of solo recordings revolving around leader Kjetil D. Bransdal; their new LP on Load Records was produced by Billy Anderson, the guy behind adding total heaviosity to such bands as Sleep, High On Fire, Melvins, Swans, and Neurosis. Live, they totally obliterate." Listen here
wnyc.org. Michael Gira of The Angels of Light, and members of the band Akron/Family join host David Garland to present their new albums. Gira is a veteran of his 1980s loud, dark, harrowing band Swans, and has recently been recording equally intense but acoustically played songs as The Angels of Light. For the new album "The Angels of Light Play 'Other People,'" Gira enlisted as his backing musicians Akron/Family, a young ensemble whose own self-titled album is new on Gira's Young God Records label" Listen here
allmusic.com: "Crawling out of the same noisy, arty New York underground that sired Sonic Youth and Lydia Lunch, Swans created a dark, abrasive, murky, slowed-down noise rock that served as a starting point for their ruminations about alienation, depression, depravity, and the disturbing side of human nature." Read more

Downloads:

- MP3: Swans - Big Strong Boss (3:04 min)
Swans are considered one of the most influential NYC bands to come out of the early 80's. Co-conspirators, M. Gira and Jarboe (now re-located to rural Georgia), continue to create fiercely individualistic music of varied and colliding textures and moods. Their astonishing output since Swans inception in 1982 has seen them progress constantly, veering wildly from proto-industrial grind, to slab-of-noise militant disco, to darkly ambient acoustic songs and back again - ripping apart all genres. More

Links + Downloads:
Found at www.brainwashed.com :

"Animal Collective have been mislabeled as a number of things including "free folk," "drug music," and "improv," but in their own assessment, the group are simply trying a different view of pop. Although this a cliche: there honestly is difficult to describe their sound without simply hearing it. We sat down with three members for an insightful interview in the back of their tour van. Watch closely as a car accident can be heard offcamera outside during one of their answers!"

- Download the Video
It seems that each article from the WIRE mentioning artists from Michael Giras label "Young God Records" ca be found at the label homepage. For example, this huge interview with Michael Gira from WIRE #233.
Formerly of The Swans, now at the head of The Angels of Light and Young God Records. A beautiful conversation with a passionate songwriter.
Music excerpts from: The Angels of Light "How I Loved You" (2001 - Young God Records)
First aired: 15/06/01
Length: 41 minutes
Originally, Tricky was a member of the Wild Bunch, a Bristol-based rap troupe that eventually metamorphosed into Massive Attack during the early '90s. Tricky provided pivotal raps on Massive Attack's groundbreaking 1992 album, Blue Lines. The following year, he released his debut single, "Aftermath." Before he recorded "Aftermath," he met a teenage vocalist named Martina, who would become his full-time musical collaborator; all albums released under Tricky's name feature her contributions. Read more

Downloads:
MP3: Tricky - Signs Remix
MP3: Tricky - Antimatter
MP3: Tricky - Evolution Revolution Love
MP3: Tricky - Crazy Claws
MP3: Tricky vs. Lynx (Live)

Tricky has been taking part in a couple of radio shows, which are interesting because they often play
unreleased or rare tracks. Some of them are availible here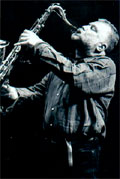 The bearded, fierce-looking German sax and clarinet player Peter Brötzmann has been a luminary of the free jazz world for nearly four decades and has become its godfather, collaborating with younger avant-gardists like Chicago reedist Ken Vandermark and Swedish sax player Mats Gustaffson. Brötzmann's original interest was in painting, but he quickly grew frustrated with the gallery situation in the modern art world and turned his focus to playing swing and bebop semiprofessionally in Germany. Read more

Downloads:
MP3: Peter Brötzmann - Sanity
MP3: Peter Brötzmann - Nipples
MP3: Peter Brötzmann - Machine Gun
Virtuoso vocalist Joan La Barbara has explored the possibilities of voice and extended techniques such as multiphonics and glottal clicks since the '70s. She has performed with orchestras all over the world, from the New York Philharmonic to the Orchestra of the Hague, and has premiered operas including Robert Ashley's Now Eleanor's Idea and Jacob's Room by Morton Subotnick, with whom La Barbara cowrote The Misfortune of the Immortals. This piece (also co-written by Mark Coniglio) is an example of her work melding electronics and technology into performance. Morton Feldman, Philip Glass, and James Tenney are among the American composers who have written works specifically for her. Read more.

Media Files:
"Only" by Morton Feldman features a gorgeous soprano solo by Joan La Barbara. La Barbara, both a friend and student of Feldman, first performed the piece at a memorial concert given for Feldman after his death in 1987.

"The Waves" is a longer work by Charles Dodge that uses both the soprano voice of Joan La Barbara and synthesized and enhanced sounds to a subtle and creepy effect.

Listen to "73 poems" by Kenneth Goldsmith + Joan La Barbara.


Norwegian trio Noxagt play slow-burn metal stripped to its essential elements: no vocals, no solos, just lurching riffs and pounding rhythms, a precision machine on a hot rail to hell. The obvious comparison, given the Load Records connection, is to heavy-rock deconstructionists like Lightning Bolt, but I think that's a red herring. The stateside duo are fast and frantic where Noxagt are methodical; Lightning Bolt and their imitators explode; Noxagt are a battering ram. Same result, different methods.
NOXAGT began in 1998 as an experimental electronic rock project, mixing grindcore and punk with musique concrète. In 2001 NOXAGT gradually evolved into an instrumental rock group consisting of Kjetil D Brandsdal, Nils Erga and Jan Christian L. Kyvik. NOXAGT's music now emphasizes a heavy and powerful rhythm section, with a massive downtuned bass guitar and crushing, often shifting drums. The distorted, droning viola adds to the rhythmic and harmonic disorientation. All three instruments are given equal importance, the overall aim being an intense yet groovy wall of sound.
Read More

Media Files:
MP3: Noxagt - Cupid Shot Me
MP3: Noxagt – Mek It Burn (DEMO)
watch a flash animation
Sam Shalabi is a central node in Montréal's free improv scene. One cannot count the many projects he is a part of. He is best known as a founding member of Shalabi Effect, who have recorded 2 albums on Alien8 Recordings which have earned the band extremely good response from critics and music enthusiasts alike. Apart from Shalabi Effect, he is also part of a number of bands, among which Detention, Molasses, Balai mécanique, Po, 'Gypt Gore, and a trio with David Kristian and Alexandre St-Onge. Recently he recorded his first solo effort for Alien8, On Haschisch, and is at work on a follow-up. His style ranges from freeform psychedelic rock to the most oddball abstract performance. Although mostly known as a guitarist, the highly versatile Shalabi also performs on oud and a variety of other instruments.

Media Files:
Download lot's of HUGHE MP3 excerpts and videos at the official homepage of Shalabi Effect.

Listen/Download a CBC radio profile of Shalabi Effect and Sam Shalabi in Real Audio format.
For the past 3 or 4 years, the Animal Collective have been creating quite an underground stir. Having already released over 5 records and with two successful US tours (one with friends The Black Dice) under their belts, the Animal Collective are now poised to significantly alter the popular music landscape. Their sound is everywhere and nowhere. Informed by the psychedelic freak-outs of 90s west coast isolationists like Caroliner and Sun City Girls, the emotional bursts of hardcore punk, the textures and structures of minimal techno (a la the Kompakt label), the earthiness of sixties utopians Amon Duul and Can, and the organic looseness of the best of the free and improvised music world, the Animal Collective simply cannot be pinned down. The Animal Collective are creating the new spiritual music for the 21st century: music that is aware of tradition without being tied down to it; music unconcerned with borders and definition.

MP3: Animal Collective - Slippi
Doom's career in hip hop goes right back to the early 90s when, known as Zev Love X, he was a central member of nu skool phenomenons KMD. Dropped by Elektra for refusing to change 'controversial' cover artwork, tragedy was heaped on top of disappointment when Zev Love's brother and fellow band member, Subroc, was killed in a car accident. The young MC and producer vanished from the hip hop scene and was, to some extent, forgotten. In 1998, though, he re-emerged on Bobbito Garcia's classic label Fondle 'Em as MF Doom and over the next few years cemented his place as one of the most important names on the underground scene, "Operation: Doomsday" was hailed as a classic and KMD's 'lost' album, "Black Bastards" finally saw the light of day. A generation of musicians have grown up in awe of him and he has since worked with everyone from Prefuse 73 to Madlib. Read more It's also possible, to listen to the whole album, just follow the link before.
Best known for his role as founder and co-leader of avant-garde rock band Swans, Michael Gira has made it a point not to work very much under his own name (at least musically -- he has published and regularly done spoken-word shows), preferring instead to create and lead various projects as well as produce other musicians. Even after Swans came to an end, his various musical efforts were group affairs like the Body Lovers and the Angels of Light, which he led but harnessed a wide variety of performers. This said, Gira has had a few releases appear billed as solo efforts, and while more might yet surface in future, it looks likely such recordings will be sporadic in nature. Read more at Allmusic.com

MP3 Files:
Michael Gira runs Young God to put out various and sundry projects he's involved with, Swans re-releases, and other miscellanea. Download Songs of his Lable at Epitonic.com. These downloads include the bands:
The Angels of Light
David Coulter
Windsor for the Derby

Read more on The Swans and download the track "sex god sex" also at Epitonic.com
---
Search
---
Latest postings:
---
My second Blog:
---
Deutschsprachige
Science Fiction

My pictures at flickr.com:

---
---


Online since 6172 days

- made with antville
- powered by helma
- Use Firefox